Life is busy. Between work, errands, and spending time with family and friends, there's not enough time in the day to do everything. Not everyone would love to sacrifice their rest period for grocery shopping. Thankfully, there's a solution to make grocery shopping in Canada easier: grocery delivery apps.
You can have groceries delivered right to your door without worrying about lugging heavy bags of food home from grocery stores.
You can also opt for subscribing to a meal kit delivery service, a time-saving solution for individuals and families who want to enjoy home-cooked meals without the hassle of meal planning and grocery shopping.
But with the uptick in the online grocery shopping market, how do you know which app is right?
Don't worry—we've got you covered. In this article, we'll be exploring some of the best grocery delivery apps available in Canada. Pay close attention to this list!
Best Grocery Delivery Services in Canada
Instacart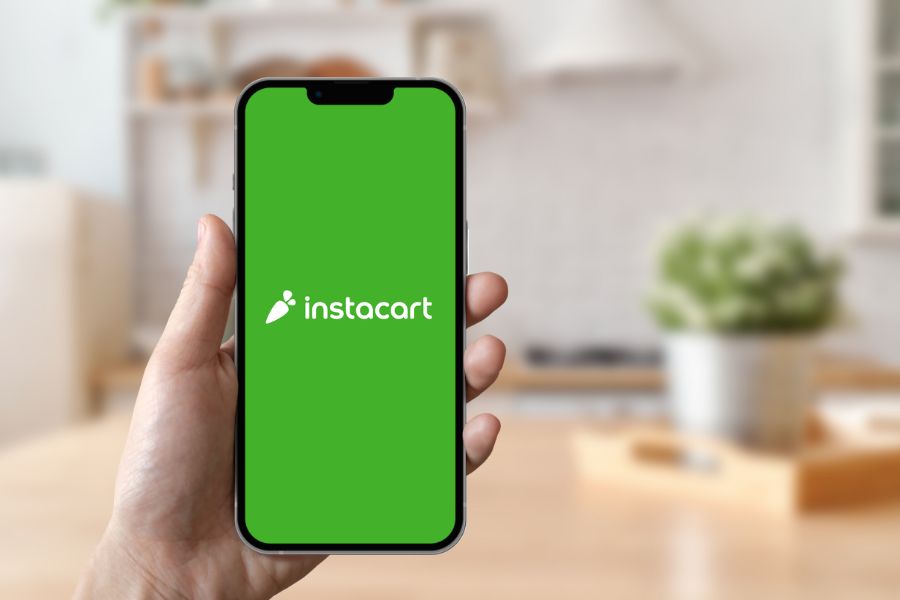 This is arguably one of the best grocery delivery services in Canada. Millions of Canadians use the app in dire need of same-day grocery delivery. Their delivery services cover M&M food and shoppers drug mart.
Instacart offers a complete selection of groceries and provides users with a wide selection of products from local retailers.
The app makes it easy to shop with the ability to search for particular items or brands and add them to your cart with just a few clicks.
Once you've finalized your order, you're connected with one of their shoppers, who will pick up and deliver your groceries straight to your door.
If you don't need a delivery immediately, you can always select a time that works best for you.
Here are some additional features of Instacart:
Over 350+ stores across Canada
Ability to "save as list" so that reordering is easy
The choice between express or free delivery
View nutrition and ingredient information on-the-go
Walmart Grocery
Well, not everyone knows they offer grocery delivery services. But Walmart Grocery delivery is an excellent option for those who want a convenient curbside grocery pickup or delivery of groceries.
With curbside pickup, you can place your order online or by app, then pick it up the same day at any Walmart location.
You'll receive an estimated pickup time in as little as four hours, and you can pay upon arrival in-store.
If you prefer delivery, choose from two free membership plans: Walmart+ and Delivery Unlimited. The latter is ideal for frequent users, while the former entails paying a delivery cost if you prefer to pay as you go.
As with all grocery delivery options, check out the availability near you before signing up for curbside pickup or delivery.
That being said, you'll find several Walmart stores across Canada, so chances are they offer service in your area. Plus, they offer discounts on select items during certain times of the year, so keep an eye out for those too!
Cornershop
Cornershop is one of your best bets for an on-demand grocery delivery app. This app has been around for a while now and is constantly innovating how it helps Canadians with their grocery needs.
But why should you choose Cornershop from all the other grocery delivery apps in Canada?
For one, Cornershop offers an unparalleled selection of products at competitive prices. Whether you're looking for fresh produce, dairy products, frozen goods, or anything else, you can find it in the Cornershop app.
Furthermore, unlike many other apps, it provides speedy delivery times. You'll get your order in as little as 45 minutes.
Cornershop also features an incredibly easy-to-use platform. On this platform, you can seamlessly search for items and check out with just a few clicks. Plus, the platform is optimized for mobile and desktop devices, so you can order from wherever you are!
In short, if you're looking for fast, reliable, and easy-to-use grocery delivery services anywhere in Canada, Cornershop is the right app.
Grocery Gateway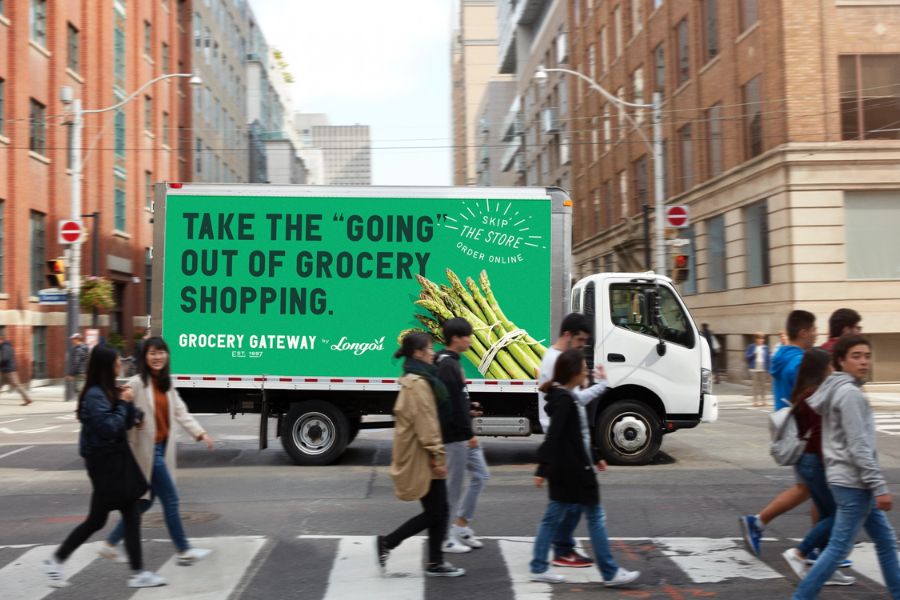 Grocery Gateway might be the perfect choice if you live in select Ontario and Western Canada areas. They offer free delivery on orders over $175 and have a great selection of fresh produce, frozen foods, household items, and pet food.
So why should you choose Grocery Gateway?
Grocery Gateway delivers to areas in Ontario like Toronto, Ottawa, London, Waterloo Region, Niagara Region, and many more. And for those out west: Vancouver Island, Okanagan Valley BC, Edmonton, and Calgary are all included in their delivery zones.
Moreover, they offer same-day delivery and scheduled-delivery service. This means users can conveniently place orders and pick the best delivery window!
Plus, with a minimum order of $75 and free delivery on orders over $175, it easily offers the best grocery delivery service.
Farm Boy Delivery
If you're in Ontario, you can enjoy all the effortlessness the Farm Boy app profers. This grocery delivery service provides hassle-free delivery to your doorstep.
Farm Boy is an Ontario-based grocer that's been around since 1981 and prides itself on offering excellent quality, fresh produce sourced from local farmers whenever possible.
When you order with Farm Boy Delivery, you can choose from a vast selection of fresh produce, groceries, and pantry items. You may also get meal kits and meal options such as salads, sushi, and bowls.
Plus, if you're looking for convenience while shopping, simply use their app to shop online in a few clicks or taps.
Afterward, you can pick your delivery time window based on availability for same-day or next-day delivery. Orders over $30 are free to deliver, and orders under $30 will incur a nominal delivery fee.
So if you're looking for a convenient way to get fresh produce and meals delivered in Ontario, Farm Boy Delivery is worth checking out!
HelloFresh
You might have heard of HelloFresh, a Canadian-based meal delivery company.
So what makes HelloFresh the right choice for you? Here are some of its key features:
Delivery in as little as an hour: Ordering through HelloFresh means you can deliver your groceries to your door in as little as an hour! Plus, they have daily delivery times, so you can find a time that fits your schedule.
Affordable pricing: They offer free delivery on orders over $50, no hidden fees, and all the same sales and promotions in a store. That way, you'll save money while still getting quality groceries.
Variety of products: You can get everything from fresh produce and pantry staples to frozen foods and household items like pet supplies. It's like having a personal shopper do all the hard work for you!
Are you interested in picking convenience and affordability over stress? HelloFresh app is worth a trial- it might just be the service that suits you perfectly.
Metro
Another app that puts convenience and reliability first is the Metro delivery app.
Metro is an excellent choice for busy people who want to get groceries immediately. With its quick order process and reasonable delivery fees, you can get your orders quickly and conveniently.
They offer same-day delivery in some locations or the next day if you prefer! Plus, Metro ensures that every item in your order is high quality.
The team hand-picks the freshest fruits and veggies, so you don't have to worry about getting anything less than the best.
And with their user-friendly app, you can track your orders in real-time to know exactly when to expect them. So what are you waiting for? Give Metro Delivery a try today and see if it's right for you!
DoorDash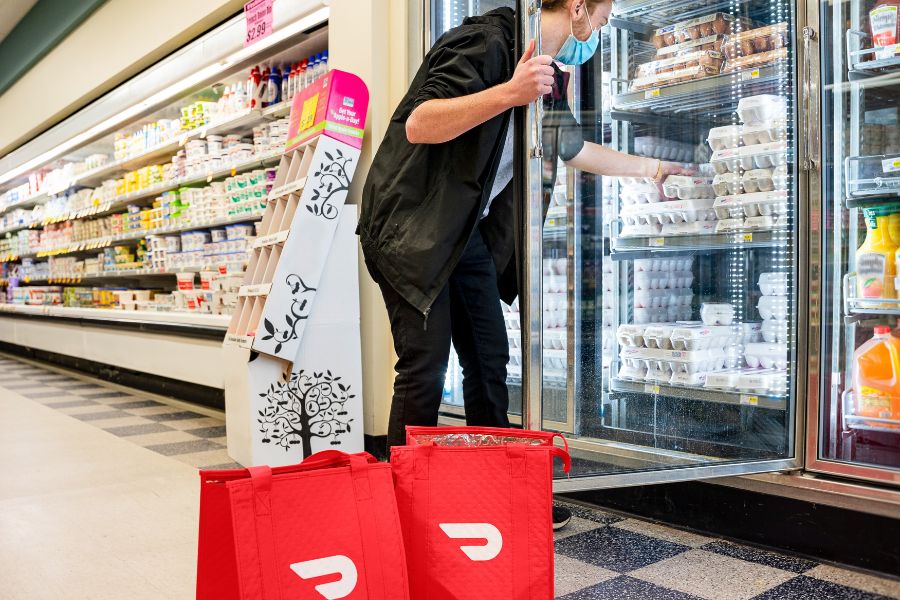 When it comes to grocery delivery apps in Canada, DoorDash has a significant presence. With DoorDash, you can shop for groceries from a wide range of stores, including some major retailers like Walmart and Costco.
What is the benefit of using DoorDash? You can get your groceries delivered as quickly as within the hour. So if you're in a hurry and need to finish things, then DoorDash might be suitable.
Moreover, they also have an Express option that further cuts your delivery time and makes it even more convenient.
DoorDash's easy-to-use interface lets you quickly find the products you need and place your order with just a few taps or clicks. Their integrated payment system makes checkout super simple – make your order on the app, and they'll take care of the rest. So no more standing in long lines at the checkout!
And, of course, comfort comes first when shopping with DoorDash. Their contactless delivery will ensure that all your items arrive safely at your doorstep. Got any issues with the process? No worries; they have full customer support to make your experience smooth.
Inabuggy Grocery Delivery
Inabuggy Grocery Delivery Canada is a reliable delivery service in Canada. With just a few taps on your phone, you'll have your groceries at your doorstep.
The app is user-friendly, making it a breeze to browse a wide range of products and add them to your cart.
What truly makes Inabuggy a go-to app is its lightning-fast delivery service. Whenever you use their service, your groceries will arrive promptly.
The ability to schedule deliveries based on preferred time slots adds convenience to your busy schedule.
Inabuggy Grocery Delivery keeps making life much easier, and we highly recommend trying them. Say goodbye to crowded supermarkets and hello to hassle-free grocery shopping!
PC Express
PC Express is a great grocery delivery app if you're a PC Optimum member because you can collect points when you shop online. Not only that, but they also give free delivery for orders over $35—plus, you can save up to 10% on select items.
PC Express offers a quick service on the same day, and you'll get your order in as little as 4 hours. As if that wasn't enough, they'll even help with online meal planning with their "My Meal Planner" feature. This feature boasts complete recipes available for every item purchased from the store.
So no more wondering what to make for dinner—PC Express has your back! Getting groceries online has never been easier.
Choosing Between the Grocery Delivery Apps: What to Consider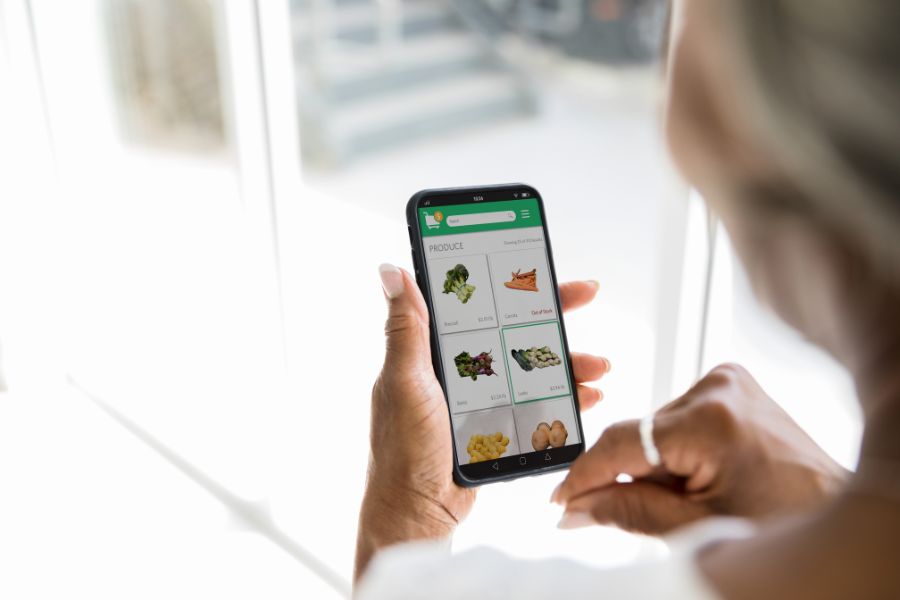 Choosing one between grocery delivery apps in Canada can be challenging. You must consider several details!
To help you out, here are some essential things to think about when choosing which app is right for you.
Cost & Fees
The cost of using a grocery delivery app typically depends on the app, and you'll also have to factor in fees.
Since they all have different pricing structures, compare them before deciding on an app. Some apps may have free delivery for orders over a certain amount or give discounts for first-time orders.
Delivery Time & Slot Availability
Grocery delivery apps have different delivery times and slot availability depending on your location. Ensure the app will deliver when and where you need them before choosing.
Delivery Radius & Range of Products Offered
Grocery delivery apps generally have a limited range of products and may be restricted by location.
Some services only deliver in certain cities or regions! Check which stores they partner with and what products they have before making your choice.
User Friendliness & Customer Service
You must confirm the grocery delivery app is easy-to-use, with features like search filters or product recommendations that make it easier for customers to find what they need!
It's also helpful if the customer service team is available 24/7 should you need any assistance with your order.
Final Words
Whether you're looking to save time, money, or both, there are a variety of grocery delivery apps in Canada that have something to offer.
For some, you'll get the convenience of ordering ahead. At the same time, others have curbside pickup, cost savings of subscription services, or the ability to track and get rewarded for your orders.
Regardless of the perks attached, what matters is that these apps provide an efficient and enjoyable way to get groceries.
Finding the right app depends on your needs, budget, and lifestyle. Consider your priorities and factor in the various features available to find the best fit for your needs.
With a few clicks, you'll be well on your way to a more convenient grocery shopping experience!